Land Rover Defender Off-Road Performance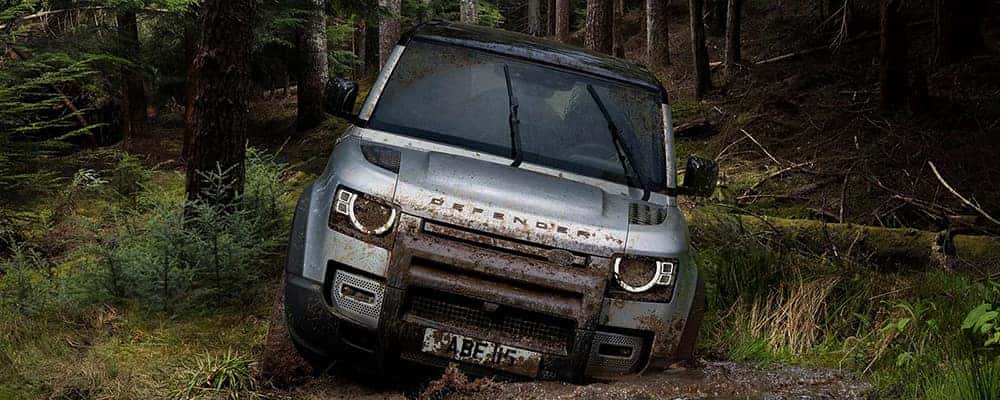 If there's one thing a lot of our Darien customers love to do with their Land Rover Defender SUVs, it's going off-road. That's because this beast can handle it. Every Land Rover Defender off-road test has shown this rugged SUV provides a fun ride over just about any terrain. More than one Land Rover Defender off-road review agrees. Let's talk about what you can expect when you take the Defender on your off-road adventures.
Land Rover Defender Off-Road – The Numbers
Off-Roading is a popular activity for a lot of drivers. And there is no doubt that the Land Rover Defender is built for it. Here are the numbers to prove it:
Ground Clearance – 8.6 inches to 11.5 inches
Maximum Wading Depth – 35.4 inches
Approach Angle – 30.1 – 38.0 degrees
Breakover Angle – 22.0 – 28.0 degrees
Departure Angle – 37.7 – 40.0 degrees
Wheelbase – 118.9 inches
Land Rover Off-Road Review
Several reviews have taken the Land Rover Defender off-road test, and they are impressed. They've been down-right effusive with praise in more than one Land Rover Defender off-road review. Here are just a few of the quotes from Motor Trend and Carfection.
Motor Trend's Land Rover Off-Road Review
On how the Defender bucks established trends – "The Defender 110 sports a 38-degree approach, 29-degree break-over, and 40-degree departure angle—the latter two angles beat the Jeep Wrangler Unlimited Rubicon's 20- and 37-degree breakover and departure angles, respectively."
"Where the Defender's optional air suspension differs from prior systems is that it uses multiple stages in its long-travel air suspension. This means that even at max off-road height there's still plenty of travel and impact absorption left in the suspension."
Carfection's Land Rover Off-Road Review
Henry Catchpole did his Land Rover Defender off-road test in Namibia. He called the air suspension "amazing" and praised the reliable performance. Watch the video yourself to explore more of its exciting features and see how the Defender handles some of the toughest trails in the world. While you're at it, find out why folks are so excited by learning a little bit about this model's history!
Check Out the new Land Rover Defender at Land Rover Darien
We make it easy for you to get behind the wheel of your next vehicle. You can even apply for financing or explore our Land Rover Defender lease offers online. Our dealership is conveniently located near both New Canaan and Stamford, but you can also browse our entire inventory from the comfort of your own home! So, contact us today!
More from Land Rover Darien
The Land Rover Defender's history of off-road innovation continues in 2022 with a limited-production model: the Land Rover Defender Trophy Edition. Our overview covers everything you need to know, from the expected Defender Trophy Edition price to its standout performance technology. View New InventoryManufacturer Information How Much is a Land Rover Trophy Edition?…

How much does the Range Rover Sport cost in 2023? The Range Rover Sport price spans from $83,000 MSRP* for an entry-level model to $121,500 MSRP* for the top trim. The base Sport SE is equipped with the must-have connectivity features you expect from a luxury vehicle, like wireless smartphone connectivity, but it also boasts…

Land Rover Darien drivers like to play as hard on the weekend as they work during the week—and for many, that involves towing a boat or a camper. How much can a Land Rover Discovery Sport tow? Can it handle pulling your jet skis? The Land Rover Discovery Sport towing capacity is a massive 4,409 pounds…