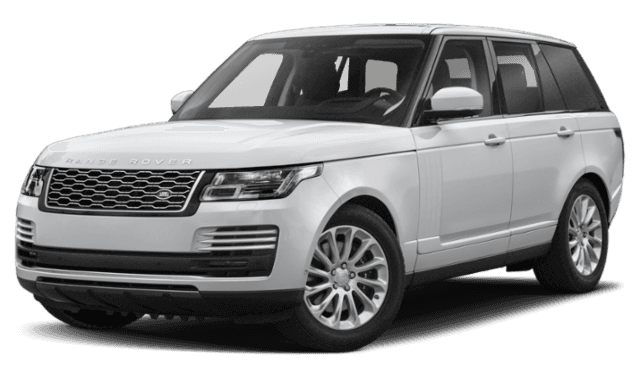 2020 Land Rover Range Rover
2020 Toyota Land Cruiser
2020 Land Rover Range Rover vs. 2020 Toyota Land Cruiser
If you're on the hunt for a powerful SUV that can take you anywhere you want to go, the 2020 Land Rover Range Rover and the 2020 Toyota Land Cruiser are bound to appear at the top of your list. Still, there's a world of difference between these two models. Is the Range Rover or Land Cruiser a better fit for your Greenwich-area adventures? Find out by reading on.
Cargo Space (Rear Seats Up)
557 hp 5.0L supercharged V8
Range Rover or Land Cruiser: Engine Options
Comparing the 2020 Toyota Land Cruiser vs. 2020 Range Rover, one of the first things you'll notice is that the Toyota only offers one engine, a 5.7L V8 with 381 hp and 401 lb-ft of torque.
Although this starting option is more powerful than the base engine in the Land Rover, the latter offers six powertrain configurations, including many that are much stronger. Here's the full list:
254-hp 3.0L V6 turbodiesel engine, with 443 lb-ft of torque
355-hp 3.0L V6 MHEV powertrain, with 365 lb-ft of torque
395-hp 3.0L V6 MHEV powertrain, with 406 lb-ft of torque
398-hp 2.0L 4-cylinder PHEV powertrain, with 472 lb-ft of torque
518-hp 5.0L supercharged V8 engine, with 461 lb-ft of torque
557-hp 5.0L supercharged V8 engine, with 516 lb-ft of torque
With so much to offer, no driver should be surprised to see how our Range Rover vs. Ford Explorer comparison pans out. Check out the Range Rover configurations to get an even better sense of what you'll find inside.
Range Rover or Land Cruiser: Convenience and Capability
If you're interested in speed-sensitive volume control, a voice recorder, or a hands-free liftgate, then you really only have one option! Each of these features is standard on the Range Rover, but unavailable on the Land Cruiser. However, that's not the only reason why the Range Rover is bound to feel like a better fit for your adventures:
Cargo Volume: With the rear seats up, the 8-passenger Land Cruiser offers just 16.1 cubic feet of cargo space. The 5-passenger Range Rover offers 31.8 cubic feet of the same.
Executive Seats: Although the Land Cruiser also offers a five-passenger configuration, only the Range Rover interior offers available Rear Executive Class Seats with heating and cooling, a hot-stone massage feature, and much more.
Rear Legroom: The Land Cruiser only offers 34.4 inches of second-row legroom. That's very little, especially compared to the Range Rover SUV's 39.3 inches. Opt for the Range Rover Long Wheelbase configuration, and you'll gain an additional 7.3 inches of rear legroom.
See How the Range Rover Handles the Road
You've seen how the 2020 Range Rover vs. Land Cruiser matchup pans out on paper, but we trust that you'll still want to get behind the wheel! Visit Land Rover Darien and explore our new Range Rover inventory today. You'll love how it handles the roads of New Canaan or Wilton, and our new Land Rover special offers make today a great day to move forward.
Ready to explore another high-end match-up? Compare the 2021 G-Wagen vs. 2021 Range Rover today.