Land Rover InControl Explained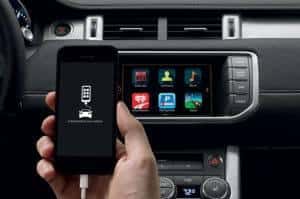 When it comes to technology, no vehicle manufacturer does it better than Land Rover. That's because Land Rover offers InControl® technology, a suite of features that provides you with the entertainment, connectivity, and information you need for smooth and enjoyable ride. Learn more about this impressive innovation below.
Infotainment
The Land Rover InControl® Touch™ feature comes standard with an 8-inch touchscreen that's easy to use. Using the navigation system, you can access 2D and 3D mapping, and you can even access features like climate control, entertainment, and other vehicle controls.
If you upgrade to InControl Touch Pro™, you'll receive the same fun features as the Pro, but you'll get this on a 10.2-inch screen. Plus, you can completely customize the home screen, which means you can make it easy and convenient for you.
So no matter if you stick with the tech that comes standard or the one that offers slightly more for an upgrade, you'll have access to infotainment that puts a smile on your face.
Connectivity
One of the best features of the InControl system is the integrated and connected navigation. Through this feature, you have instant access to weather and traffic updates, so you can always make smart driving decisions in Westport. In addition, this feature also offers InControl Wi-Fi, which allows you to receive Wi-Fi on up to eight different devices. Finally, use the InControl Apps feature to access information, schedule meetings, book hotels, and more.
Safety
The InControl system also does its part to keep you safe on the Greenwich roads. For instance, through the InControl Remote feature, you can lock/unlock and start/stop your vehicle from anywhere. In addition, you have instant access to vehicle reports on your phone, and you can send immediate diagnostics to help when you need it.
As another safety feature, you'll also enjoy InControl Protect™. Using this feature, you'll have access to roadside assistance if you're ever in trouble. Plus, you can access first responders too. Either contact them yourself, or rely on the Land Rover to contact them for you when a collision occurs.
Finally, if anything were to happen to your vehicle, the InControl system can help. For instance, if your vehicle is ever lost or stolen, InControl technology can help the police locate your vehicle in a timely fashion. This is extremely beneficial to both you and the police, so be sure to take advantage.
Explore InControl at Land Rover Darien
New Canaan drivers deserve technology that can make a difference, and Land Rover technology does just that. Visit Land Rover Darien today at 1335 Boston Post Road to see our inventory and check out the technology. In addition, contact us by phone at (855) 552-1292, or visit us online to start an application.